July 1 through September 2, 2014
A New Kind of Shop Hop!
No passports! No fees!
How about this… a shop hop type event with no fees, no passports and all summer to play? Simply visit any of the participating shops and receive a free pattern for a row in a quilt. Combine your rows in any way to create a unique quilt that represents the fun you had traveling throughout the summer. Travel with friends, discover new quilt shops and have fun collecting rows!
Click here to find out more information
---
NCW Quilt Guild Show

Coming up this September 12 & 13, 2014 is the Harvest of Quilts Show at the Wenatchee Town Toyota Center.  Be sure to save those dates!  

And check out our booth at the show - back with new ideas.  It is always a wonderful show to see. 
Come into The Attic Window Quilt Shoppe to see this year's beautiful Raffle quilt.  Hand appliqué and with some pretty bling, this quilt will grace any home  We have tickets available for $1 and would love to sell you the winning ticket. 
---
Mystery Quilt!
Le Ann Weaver of Persimmon Quilts has designed a special mystery quilt.
Do you like a good Mystery?  Soon we will be announcing our 1st Mystery Quilt.  Clues will be emailed or available for pick-up every other Saturday. The last clue will be given out at our Mystery Quilt Sew Day.  Come in and put your Mystery together at the Attic Window. If you want to play, give us a call (509) 888-2006.
---
Join us for Sit and Sew!
Every Friday!
Starts at 9am, goes all day. Drop in anytime! 
"Sew" many people have asked for more -- a day time version of our popular UFO sewing time.  Come alone, come with a friend, bring a new project or one that has you stumped.  Spend the day sewing, socializing, and getting away from all those nagging responsibilities that get between you and your passion!  We'll provide the space and some treats, and will be available to help with any of your quilting and sewing questions and problems.  Join us for a day of sewing and companionship.
---
Punches out, computer tracking in!
We've upgraded our point of sale software and one of the features now available is an advantage for you. 
Starting on January 1, we'll be able to track your sales in our computer so that it will flag us when you're purchases reach the level for your next purchase discount. 
This means no more having to hang on to those punch cards, search around for them, lose them, combine them, start over!  As long as you give us your name when you make a purchase, we do all the work for you.  
As we move to the new system, we're not able to transfer existing credits from your current punch cards.  We will honor punch cards through December 31st.  If you have a full card, use it before the end of the year; if you have an almost full one, take advantage of one of our double punch days to fill it up, then use it before the end of the year!  
---
---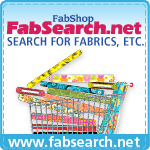 Sign up for Our Email Newsletter